BEYOND JUST BEING JEWELRY
At Le Silber Co., we go beyond just being jewelry. Established in 2017, we are a trusted brand specializing in crafting exquisite 100% Genuine S925 Sterling Silver Jewelry. We understand the importance of jewelry that not only enhances your style but also ensures your safety and comfort. That's why our collection is designed to be water-safe and skin-friendly, giving you peace of mind.
Our vision is simple yet powerful: we want to help you feel good just as you are. We believe that jewelry has the incredible ability to uplift your spirit, boost your confidence, and express your unique personality. With Le Silber Co., you can effortlessly showcase your individuality and create memorable moments, whether it's a casual outing, a special event, or a meaningful gift for someone dear.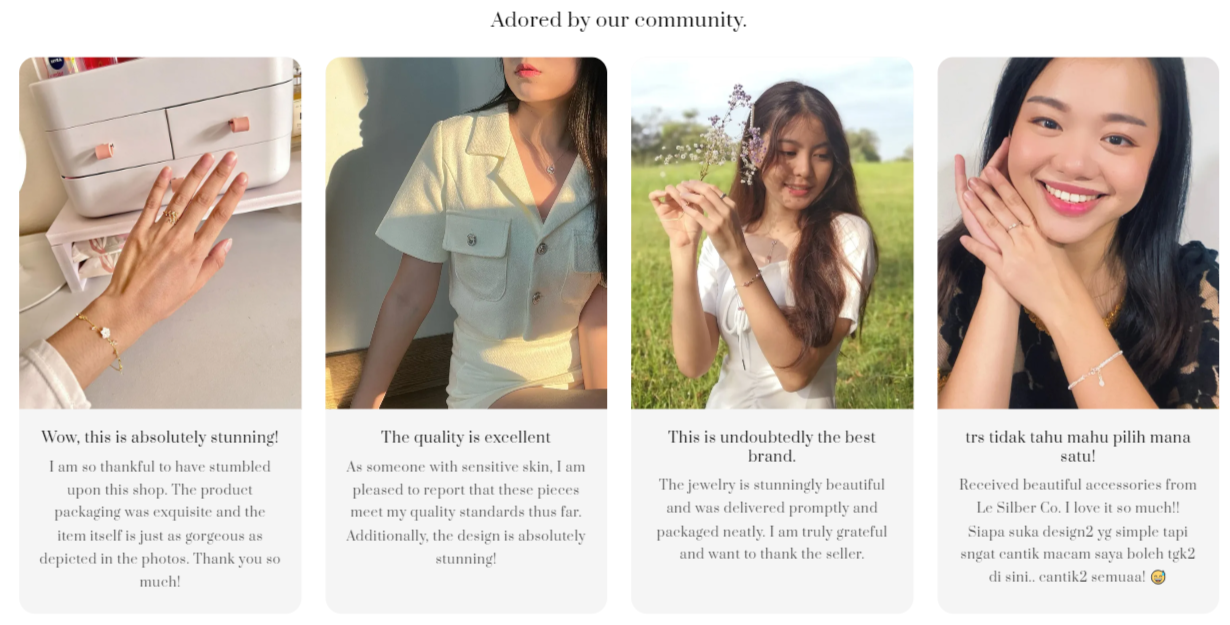 What sets us apart is our commitment to making genuine sterling silver jewelry easily accessible and affordable for everyone. We believe that everyone deserves to indulge in high-quality pieces that exude elegance and charm without breaking the bank. Our extensive range of designs caters to diverse tastes and preferences, ensuring that there is something for everyone.
At Le Silber Co., we strive for excellence in every aspect of our business. From meticulous craftsmanship to the use of premium materials, we leave no stone unturned to ensure that each piece of jewelry surpasses your expectations. Our dedication to quality and customer satisfaction is unwavering, as we aim to create lasting relationships with our valued customers.

Discover the world of Le Silber Co. and experience jewelry that goes beyond the ordinary. Our slogan, "Beyond Just Being Jewelry," encapsulates our unwavering commitment to providing you with more than just accessories. We invite you to explore our stunning collection and embark on a journey of self-expression, beauty, and style.